The collection of eCommerce themes sold in the TemplateMonster digital marketplace grows bigger as more authors join in and add their products to the category. Thementic is one of our top-performing eCommerce authors having added more than 250 high-quality web themes compatible with the latest versions of WooCommerce, Shopify, PrestaShop, and OpenCart. Their themes are sold in the marketplace and are also featured in the MonsterONE subscription service. They joined TemplateMonster in 2017 and since then the Thementic team has already generated more than 1,700 sales. How do they create their designs and what makes them stand out from the rest of the TemplateMonster authors? Let's see.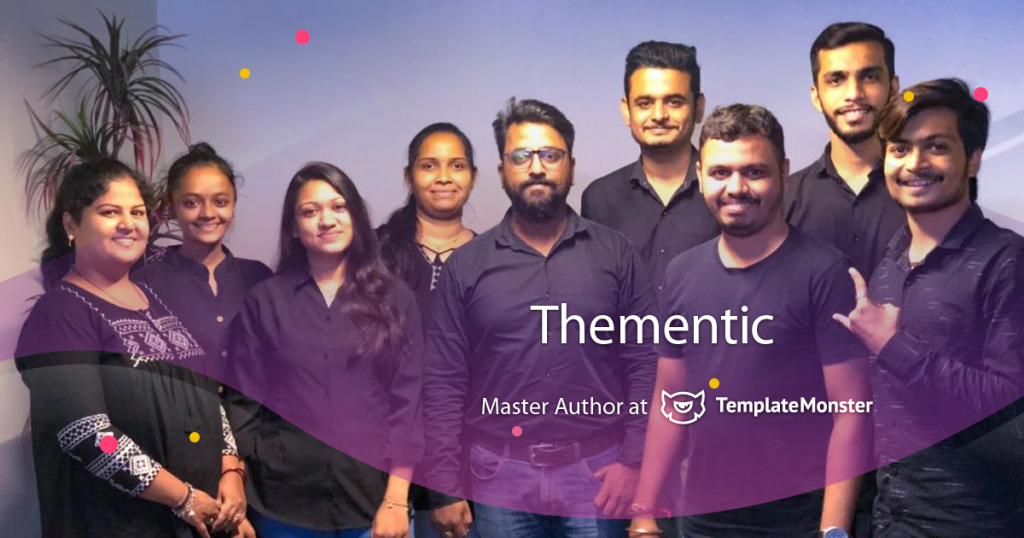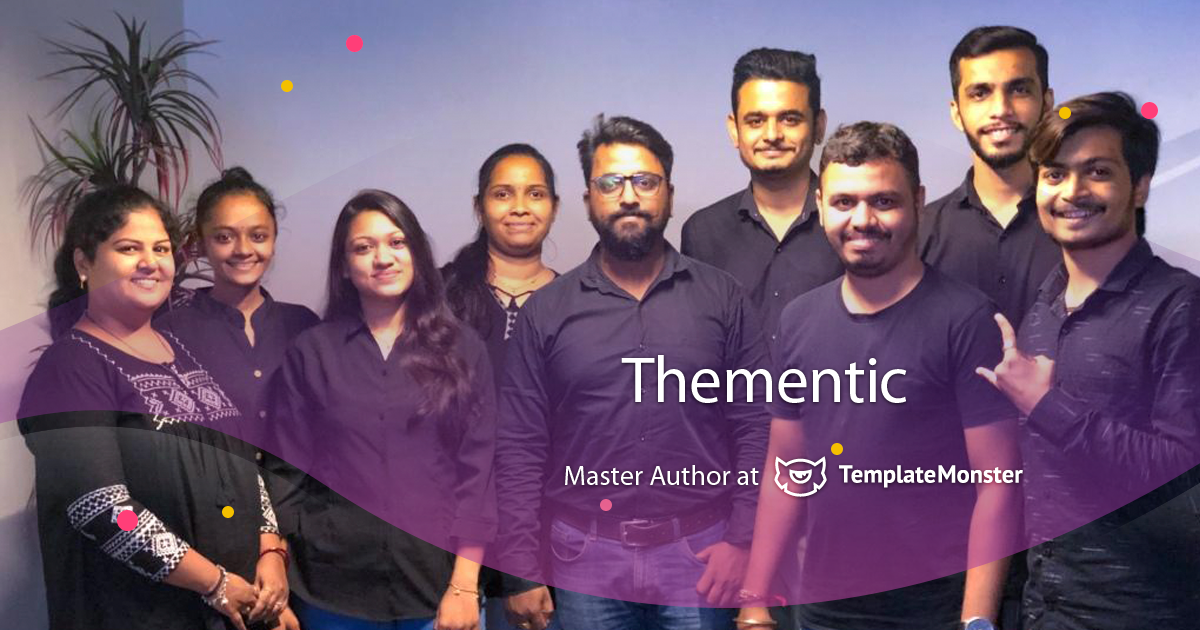 Interview with Thementic – TemplateMonster Master Author
The Thementic team builds website templates with a focus on elegance and style. Thementic isn't just a company, it's a community, and they cling to the community-centric values that have guided them over the past 5 years. They enjoy working with WordPress, Prestashop, Opencart, and many other platforms. Most of all, they enjoy crafting high-quality eCommerce designs, which you can check out in the TemplateMonster collection.
We've reached the Thementic founder for an interview, and here's what we have found out.
How did you start your career?
Well actually, I used to work as a web designer a way before, where I created templates. Then I thought about starting my own firm. I left that company and began my own journey. Although I was the sole creator of Thementic, as it grew, I started hiring designers and developers, and that is how we expanded. I now believe that if I had not left that company, I would not be in this position.
What features are common for all of your products? How we can distinguish them from others?
Every theme in our collection is compatible with features such as responsiveness, speed, SEO friendliness, multi-language and currency support, and a high level of customization. These are our common features that you'll find in our every theme. However, you can easily distinguish our theme from the others because we use the same pattern throughout all of our themes. Furthermore, our relationships with customers remain consistent. Thementic has a special place in our customers' hearts which is our victory.
Do you work alone or with a team?
My team consists of seven people, including graphic designers, web designers, and web developers. I believe in building solid relationships with my team members so that we can work together for a longer period of time. Because having experienced team members is always advantageous to any company. I am extremely grateful to have such a team. All of my team members are excellent at their jobs, whether it is providing assistance or meeting the needs of our customers. I believe that you can only be successful if you have a committed team that helps your business grow.
How did you choose your career? Do you like being a designer/developer?
My interest brought me here. I already had an interest in this field. I don't have a super story to tell me about my career. I had to do something big, yet I achieved it. At first, I provided themes to many clients at a very low cost to see if my products were liked or not. Although I have never compromised on quality, it is the only thing that brings new customers to us. I enjoy being a designer and developer, and who doesn't like to be praised when their products are well received by their customers? Being a designer, I learned that sometimes you have to deal with the bad reviews too. It tells you to overcome your mistakes and deliver better results than before.
What is your favorite and least favorite part of your work?
Interesting question! The favorite part of my work which I like the most, is bringing new concepts & ideas to life & developing unique themes. Overall, my team and I work tirelessly to create the most excellent possible version of each theme.
Do you follow up with the latest design trends? What trends do you use in your work?
Yes we do! If we do not follow the latest trends, our credibility will suffer. And who does want this? Using the latest trends in our design separates us from the rest.
We place a greater emphasis on our design trends and incorporate the most recent features. Plus, we add every essential feature that is on trend so that our customers don't have to go elsewhere.
Could you please describe your audience? What would people enjoy the most about your products?
Our audience is diverse, and they're from different regions of the world. They consist of bloggers, influencers, businesspeople, entrepreneurs, and all. Our templates are used by people all over the world, so that anyone can use it & customize it according to their needs. As per the product reviews, our customers love the responsive nature and the user-friendliness of our themes.
How long does it take to create an item from scratch?
Making a theme totally from scratch takes us nearly one weeks. This entirely depends on the type of theme we want to create and the platform for which it will be used. It takes time to make it from scratch because there is so much to consider. Despite the fact that we have a team, this process could be completed more quickly. Overall, it takes a week or more to create detailed work from scratch.
Why did you decide to work with TemplateMonster? Would you recommend this platform to others?
Working with TemplateMonster is an excellent opportunity to connect with a large number of audiences. It is also the world's most prominent marketplace. You can put your skills to good use by creating and selling products on TemplateMonster to a global audience. I would definitely recommend it to the people who want to do something in this industry.
What do you like the most about being an author of digital products?
What I like the most is going through the process of generating themes and collaborating with our talented staff. Also, I never take a step back when it comes to solving a customer's problem because it makes me feel like we've never let anyone down. Furthermore, the positive feedback from our clients brings us great joy.
With what products you are planning to amaze your customers in the future?
We have many new things coming out in the near future that our customers will undoubtedly enjoy. The quality, design, and appearance will be altered to better meet the needs of the customers. Moreover, we intend to create themes for various platforms so that people have a choice and can get the best.
Please share some tips for beginners.
I would only advise beginners to put a greater emphasis on the quality of their product in order to make it 100 percent better. They should only begin selling if their products are valuable and can provide customers with a good return on their investment. Furthermore, there will be times when you feel you are not performing well, but this is a critical time when you must think big. So just keep grinding, results will show up.
Featured Products by Thementic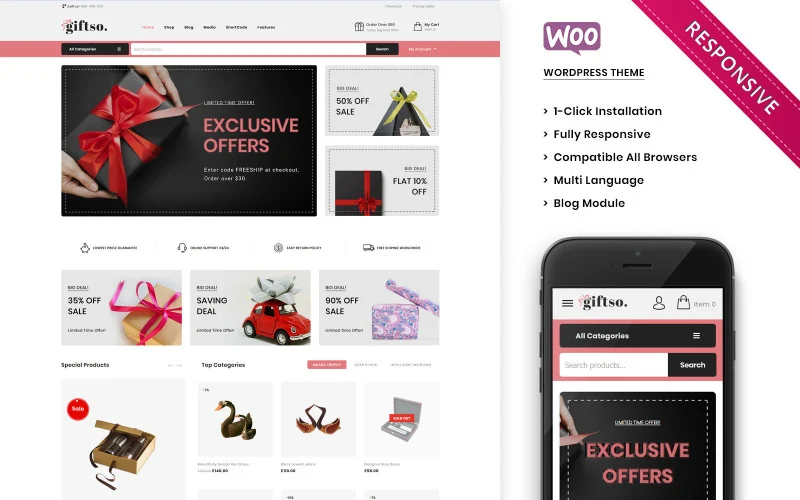 Giftso – The Gift Store Responsive is an impressively powerful theme, especially for gift shop, stationery, or accessories stores.Texture and color combination of the theme are sets off every single detail of the prominent products. This theme has settings with vast color and texture options allow you to change the layout appearance to fit your need. You can used this theme for various online stores like electronics, computers, fashion, furniture, accessories, food, apparel, cloths, kitchen, jewelry, tools, medicine, mega, minimal and multipurpose stores.
---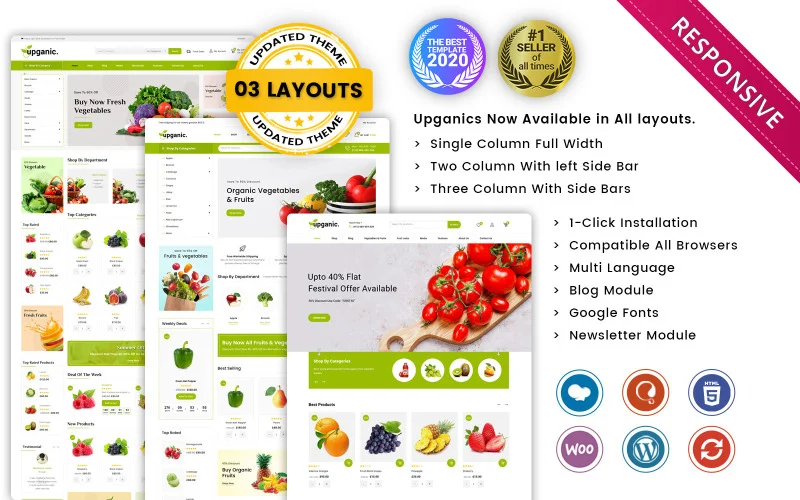 Upganic – The Mega Grocery Store Premium WooCommerce Theme is specially developed for eCommerce stores like vegetable shops and multi-purpose stores. It has two amazing fully responsive layouts. It's built with valid code and meets the latest SEO requirements. Multi-language and multi-currency support lets you build a functional eCommerce store that appeals to a wider audience.
---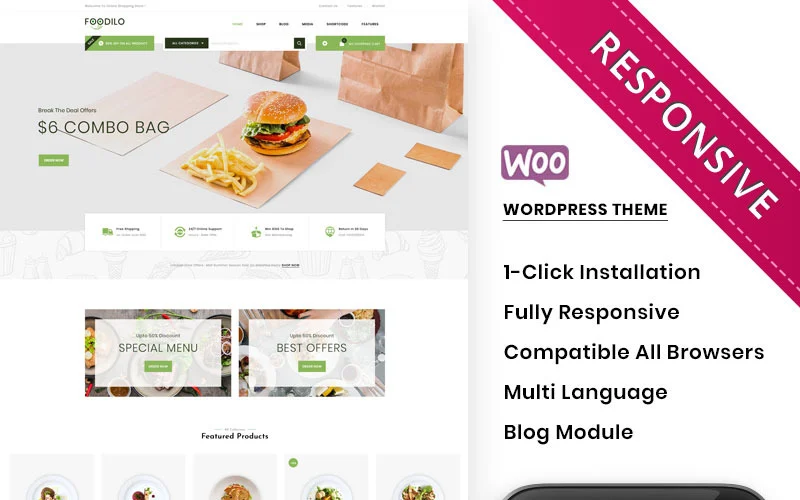 Foodilo – The Fast Food & Restaurant Store Woocommerce template is a modern, functional and clean layouts design for Burger, Flavour, Fast Food, Delicious, Pizza, Italian, Mexican, Organic, Gusto, Restaurant, Drinks, Bakery, Bar and multi purpose store. Foodilo has lots of functional pages, best shop page layouts and other outstanding features that will optimize your food website effectively. Apart from this, Foodilo is fully compatible with all main browser and 100% responsive that helping your business have a high search on Google Search.
---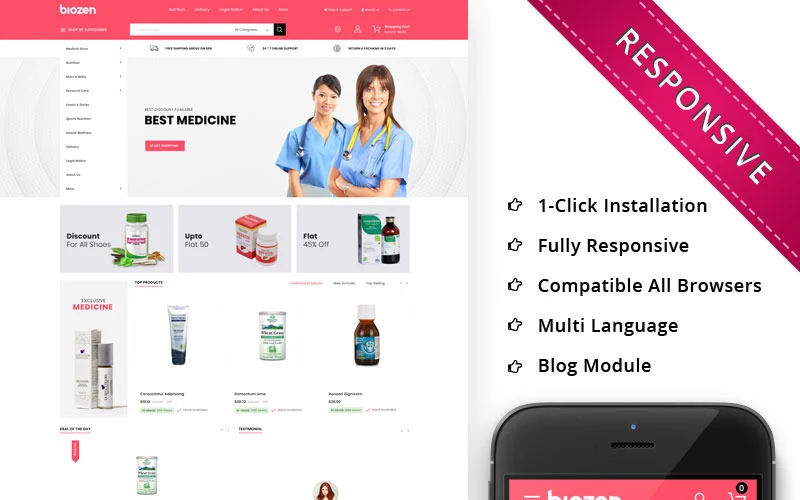 Biozen Responsive Prestashop Template is specially designed for medical, drugs, doctor, dentist, hospital, pharmacy, surgeon, clothes, medicine, megastore, minimal and multipurpose stores. This template has features like filtering products by price, manufacturer, size, color and has related products slider on Product detail page. The template is very user friendly and 100% responsive. The quick start make your online store within a minute with sample data.
---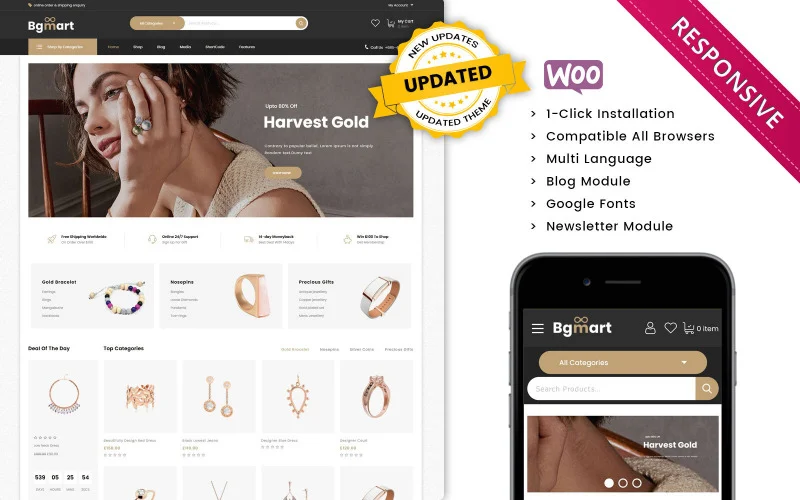 Bgmart is WordPress ecommerce theme based on WooCommerce plugin. This template is mai for jewellery, fashion design, clothes, lingeries, electronics, mobile, digital, food, vegetables, coffee, plant, auto, cosmetic, fruits, bicycle, kitchen, sunglasses, watches, accessories, furniture and home accessories store. You can use this template for multipurpose store which can be used for any kind of online store. It is looking good with its clean and fresh design. All sub pages are customized.
---
Would you like to join our family of authors? Register your account, read how to sell templates with us, and upload your works today! Our team is always happy to provide you with everything you need for good sales: stable traffic, promotions for your templates, and professional support. Develop your skills, share your experience and earn more with TemplateMonster Marketplace!