TemplateMonster is an ever-growing digital marketplace that features various web products available for download with a single site license or as part of the MonsterONE subscription. Themepul is one of our talented authors with more than 200 sales. Specialized in WordPress, he provides professional templates for various projects. Themepul joined the marketplace back in 2020, and how the team has more than 12+ WordPress themes & website templates in the portfolio.
The Bangladesh-based author has successfully created website designs since 2017. In the TemplateMonster marketplace, the creative team has earned the HotShot Author badge for web items. So, what is their success story? Let's learn their story from the author himself.
Could you please introduce yourself to our readers? Where are you from?
Hello everyone, I am a talented web developer from a little but proud country Bangladesh. My trip in web design was quite interesting.
Please provide your shop link
How did you start your career?
First, I learned how to create PSD templates, then HTML, and lastly WordPress. Currently, I am a professional WordPress theme developer.
What features are common for all of your products? How can we distinguish them among others?
I always try to do my best to create a proper template. I design it as if I would do it for myself or a close friend. All my themes are SEO friendly, have a modern design, clean code, and other handy features.
Do you work alone or with a team? (if with the team, please tell us about it)
For a moment, I work independently. But my project grows, and it is time for me to grow too. I want to open a small agency and hire other talented authors to help me with a business.
How did you choose your career? Do you like being a designer/developer?
Yes, I love web design very much. I feel happy when I create something unique and useful. I also like to do development work.
What is your favorite and least favorite part of your work?
I like various types of work. But WordPress theme development is my favorite. My least favorite is the absence of new projects. I want to be busy and implement new skills.
Do you follow up with the latest design trends? What trends do you use in your work?
To be popular and have many projects, every professional web designer must follow web trends. I read a lot about trends and try to follow other professionals to stay tuned.
Could you please describe your audience? What would people enjoy the most about your products?
My customers are happy to cooperate with me because I always try to give quick tech support. It is important for a business. Many changes are happening around us, and no one wants to be stuck with a broken platform. Moreover, my products can be installed and customized without any extra effort.
How long does it take to create an item from scratch?
It depends on the complexity and scale of the project. I would say in general it might be ready in 15 days. But it is always best to discuss terms individually with each client.
Why did you decide to work with TemplateMonster? Would you recommend this platform to others?
TemplateMonster is a world-leading online marketplace for premium and free web assets and tools. I  recommend working in this marketplace because it has personally changed my life. Professionally I made a big step forward. That is why I am thankful to TemplateMonster for this opportunity.
What do you like the most about being an author of digital products?
There are many things I like. The first is that it gives me the independence to create something on my own. I can also increase my client database faster by selling a digital product worldwide. In general, I am very happy to be an author of digital products because I can implement my creativity and talents.
With what products you are planning to amaze your customers in the future?
Hopefully, in the future, I will try to master Shopify as well as I do WordPress. I want to expand my activity and learn new skills. This will help me enter a bigger market and satisfy customers who want to own an online shop.
Please share some tips for beginners.
I would have one important piece of advice to give for web beginners. If you do your job well, you will always be in demand. Learn to work well from the start. There will be no shortage of work because people will appreciate your efforts and recommend you to others.
ThemePul Featured Products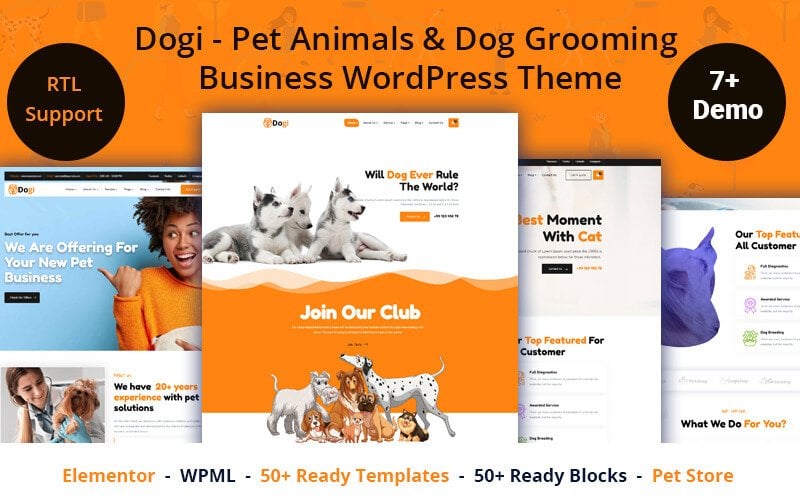 Dogi is one of the bestselling ThemePul products. It is a pet-related web asset suitable for animal grooming projects. Dogi has multiple advantages and comes with frequent updates. Apart from Polylang, MailChimp, and Loco Translator, it also has an optimized Contact Form 7 and compatibility with many popular plugins. Tell people about your services effortlessly. Download this easy-to-use theme and get fast tech help from the author too.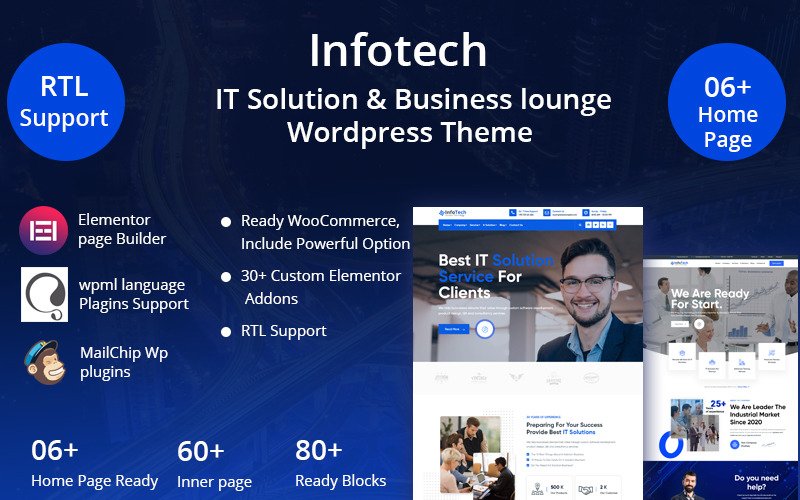 Infotech is a trendy and fully editable web asset, perfectly suitable for IT companies. It can also be a perfect solution for a cyber-security firm, eCommerce corporation, or a business-related project. Infotech comes with everything needed to present your services in the best light. Top-notch features help you develop a professional website without high-level coding skills. These characteristics include WordPress 5.6.2 x support, 30+ custom Elementor addons, 60+ ready templates, 06+ unique header designs, and so much more. Check it out today, and we guarantee you will like it.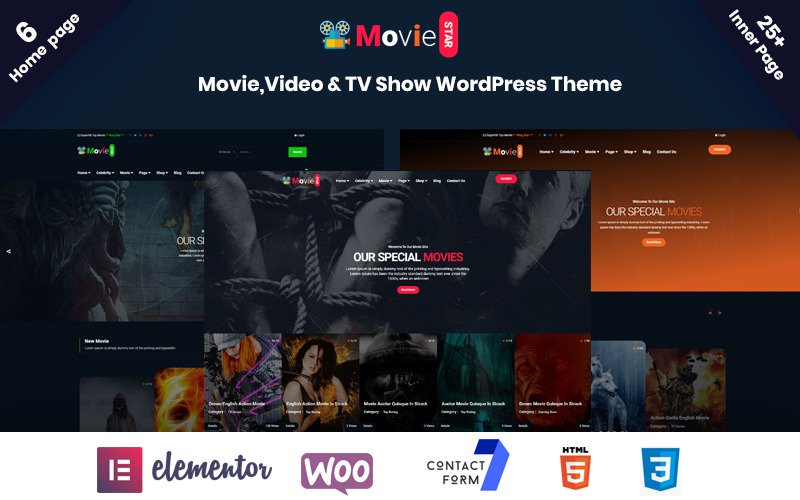 This asset is a great WordPress theme considered to be the best design for 2020. It has an outstanding design along with exceptional performance. Apart from Elementor Page Builder, easy one-click installation, and Bootstrap features, you also get 100% responsive design, Flaticon font, and unlimited color options. Various helpful features you need for easy product customization are also at your fingertips. Consider Moviestar and boost your online visibility with ease.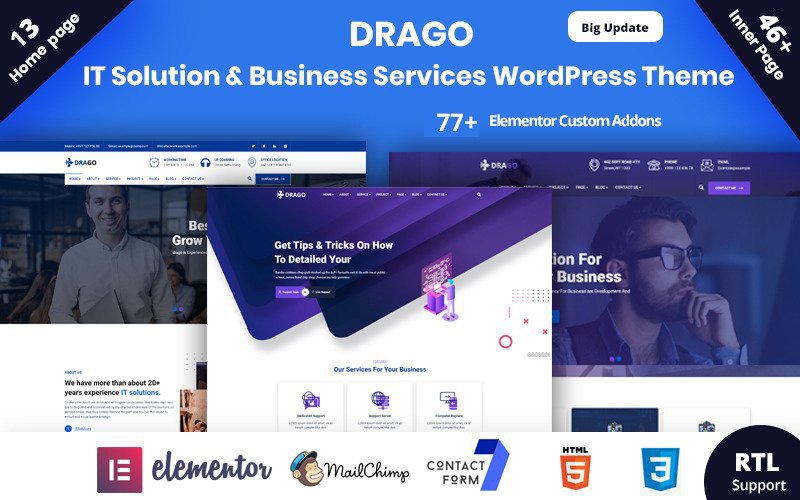 Get your project to the next level and build an online resource with this multipurpose WordPress theme called Drago-IT. The product is suitable for various industries, including corporate, finance, business, consultant, cyber security, medical projects, and much more. The web asset also owns clean and semantically valid coding. It will work smoothly in the future. The other significant feature is its high customization. You get unlimited colors for design & content elements and fully responsive visibility options. Why not check Drago-IT now?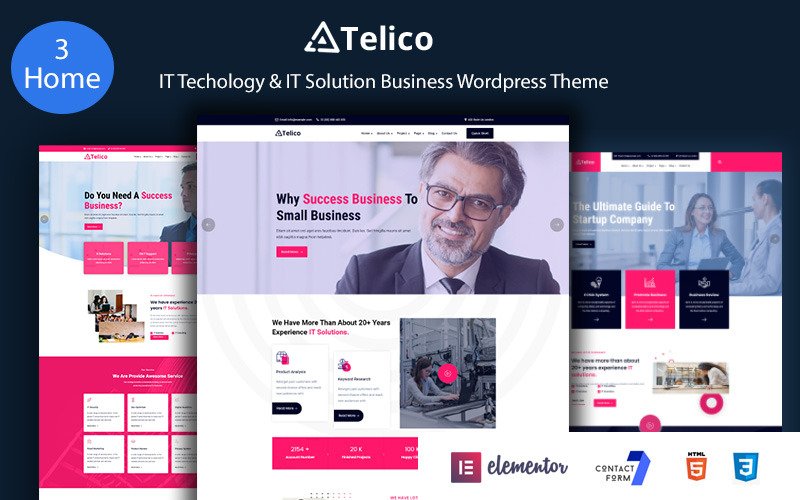 Telico is a perfect solution for entrepreneurs with a digital agency, a software company, a consultancy firm, or a finance-related project. The key purpose of this digital asset is to enable you to expand your online presence with a one-of-a-kind template without the help of professional designers. Together with premium quality and regular updates, Telico boasts many other distinctive features. Among them is WordPress 5.5.x Support, 3+ Unique HomePage feature, and Google Web Fonts. Discover other prominent features of Telico without delay.
Would you like to join our family of authors? Register your account, read how to sell templates with us, and upload your works today! Our team is always happy to provide you with everything you need for good sales: stable traffic, promotions for your templates, and professional support. Develop your skills, share your experience and earn more with TemplateMonster Marketplace!