The collection of stunning eCommerce themes gets more diverse as more authors join TemplateMonster. The digital marketplace welcomes creative professionals from all over the world. Everyone who is eager to share their works with the avid fans of high-quality web designs assets can reach their goal in the digital marketplace. TemplateMela is one of our top-performing authors working on the production of eCommerce themes suited for the launch of Shopify, OpenCart, PrestaShop, WooCommerce, BigCommerce, and Magento-based stores. Today, we will share an interview with TemplateMela CEO Mahesh Vaghani to find out more details about their story, workflow, and values. Also, you can follow updates of the creative team on social media – Facebook, YouTube, and LinkedIn.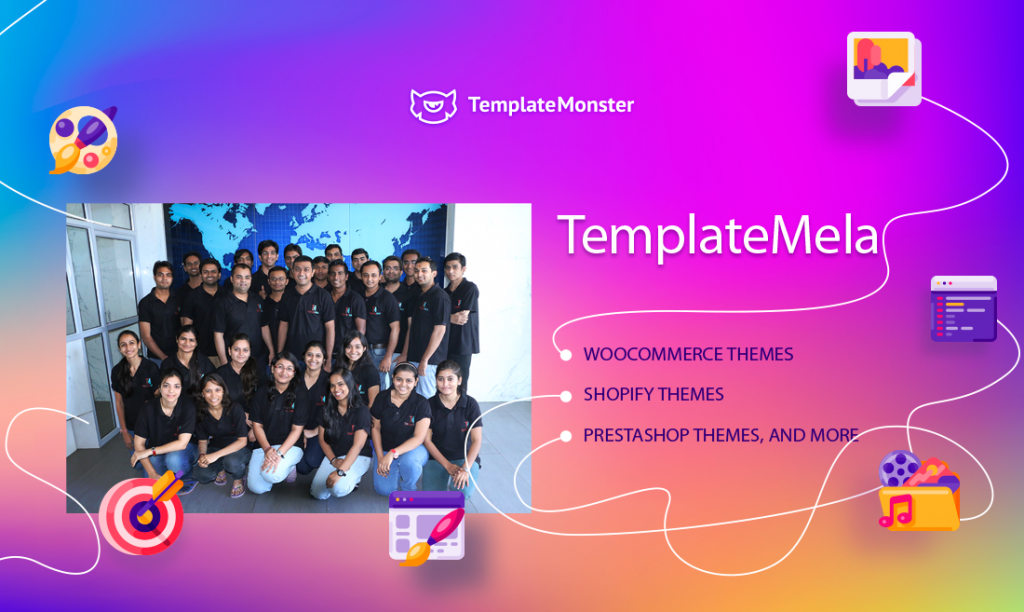 The TemplateMela team specializes in the creation of premium website templates for the most popular platforms available in the market today. They aim to help professional web designers build their websites easily and quickly. How? Let's find out in our interview.
Exclusive TemplateMela Interview for TemplateMonster
Could you please introduce yourself to our readers?
Hello, I am Mahesh Vaghani (CEO) at TemplateMela. We are from Surat, Gujarat, the diamond capital of India. We are well-known for developing premium & stunning eCommerce templates for WooCommerce, PrestaShop, OpenCart, Shopify, and Magento. TemplateMela's team consists of 35+ highly skilled individuals who are willing to give their best. And that's why TemplateMela has a name all over. The journey of TemplateMela started in 2008. And since then, we've been providing high-quality eCommerce themes to customers all over the world.
How did you start your career?
I vividly remember that 13 years ago, I started TemplateMela with four people in a team. We extensively worked investigating a full market and found a lot of flaws. Then we decided to provide an error-free experience to anyone who purchases one of our templates. So, we began creating fully functional premium quality web templates that are intuitive and highly customizable and that anyone can afford. We wanted to deliver more in less. Nonetheless, we succeeded!
What are features common for all of your products? How can we distinguish them from others?
If I talk about common features, all of my templates are fully responsive, faster, SEO friendly, attractive, multi-language & currency, and highly customizable, so our customers can customize the way they want. Besides, we are 24/7 available for them. Our customers are provided with full user guide documentation that can help them better install and use the theme. However, we leverage the most advanced technologies in our templates derived from the latest trends and innovations. Furthermore, we always listen to our customers and meet their needs, which sets us apart from the competition.
Do you work alone or with a team?
As I mentioned earlier, the whole thing started by me. I began by working alone. Then I hired two or three people to handle my work. As our themes were getting popular and receiving more requests for diversified themes. We expanded our team. Today, we keep our themes up to date with the latest trends and technology that our customers enjoy. Now, I have a team of talented UX and interactive designers, developers, project managers, thinkers, and innovators all together under one roof. They all perform their role, making Templatemela bigger and better. And I'm glad that I've got dedicated & devoted team members. We all have one goal in mind: to provide what our customers want from us.
How did you choose your career? Do you like being a designer/developer?
Actually, I worked as a web developer. Then later, I got an interest in developing themes. I found this field very fascinating & diverse. And this became my passion. Because I had the potential to do something out of the box, and I did perform well. If I had not had that job, I wouldn't have unleashed my creativity. Yes, I'm proud of being a web designer as my last job has brought me many opportunities. Now I see things differently, and I'm always looking for ways to improve themes to meet the needs of every user.
What is your favorite and least favorite part of your work?
First and foremost, my favorite part is that I work with my team every day, which results in a motivating work environment. Even though I am extremely enthusiastic about learning new things, I consider myself extremely fortunate to work in a constantly changing field with new technologies, skills, and ideas. What I find difficult is coming up with new ways to create a template that looks eye-catchy. But I enjoy that part as well. Nothing, in my opinion, is more challenging if you give your 100%.
Do you follow up with the latest design trends? What trends do you use in your work?
It's vital to stay up to date in this constantly evolving industry. I'd say every designer in this industry should walk together with trends and adopt the changes quickly. I do constant research about what's currently trending in the industry and keeping up to date with the knowledge. That's why we're united by a thorough understanding of the latest fashion trends, a dedication to continuous learning, and active participation in the graphic design community.
Could you please describe your audience? What would people enjoy the most about your products?
The thing is that my audience does not belong to any specific group. They are all looking for the most up-to-date and innovative designs, which they can get from us. They are either business people, agencies, or regular users. I read the comments regularly, and I've discovered that most of them are pleased with our customer service and design quality.
How long does it take to create an item from scratch?
The time solely depends on the complexity of the theme, type, and purpose. We usually start from scratch because we want to incorporate our creativity and style into the theme. If I talk about time, it will take us roughly one to two weeks to be completely ready with all the features. We never, ever compromise on quality, no matter how long it takes. We also strictly adhere to the guidelines wherever we upload our themes for easy purchase by customers.
Why did you decide to work with TemplateMonster? Would you recommend this platform to others?
TemplateMonster is a well-known brand in the market. Actually, I've been a TemplateMonster contributor for a very long time. The platform offers a fantastic opportunity for those who work in this field and want to grow. They can gain a lot of experience and become a reliable vendor. I noticed about TemplateMonster that it is brimming with designer communities from all over the world. Everyone has their style and way of demonstrating their products to the public. I would recommend it to anyone enthusiastic about expressing their creativity. However, I did recommend this platform to many of my fellows.
What do you like the most about being an author of digital products?
What I enjoy most about being an author is having a community that trusts and loves us and can showcase my creativity. In my opinion, as an author, you will never run out of motivation from your customers. Just one thing to keep in mind is that don't miss out on giving updates and that's all you're good to go.
With what products are you planning to amaze your customers in the future?
As I previously stated, I enjoy learning new things. We intend to create ground-breaking and innovative templates from underutilized eCommerce platforms. Apart from this, we are now concentrating more on improving user experience, support, and new designs for our users.
Please share some tips for beginners.
However, I do have a few words for beginners, as they should focus more on improving and mastering their skills. In addition, many things will hinder you in your work, but you must stand like a wall and keep going. Always take inspiration from the experts and learn from them. Furthermore, whatever you create should be exceptional. It's possible that you won't be able to make it as good as you hoped in the beginning, but your designs will speak for themselves in the end. And last but certainly not least is to be yourself & be consistent.
Best Templates by TemplateMela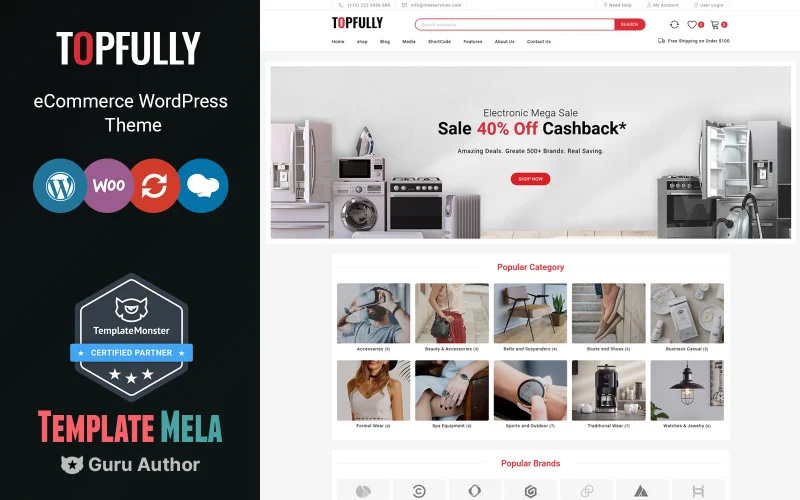 TopFully Theme is a modern and flexible WordPress Theme with beautiful typography, interesting use of navigation. TopFully Theme specially created for megashop, big store, electronics, fashion, kitchen, watches, shoes, accessories, jewelry, lingerie's, cosmetic, vegetables, fruits, plant, garden tools, auto, mobile, game, furniture, art, ceramic and home accessories store. TopFully Theme designed it to make your site prettier and your life easier. TopFully Theme is compatible with a number of the premium plugins for example WP Bakery Page Builder, Revolustion Slider etc.
---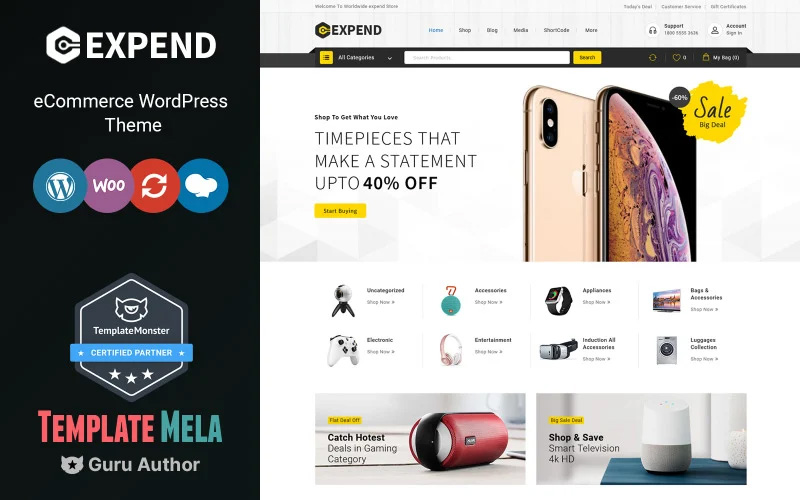 Expend WooCommerce theme is a modern and flexible WordPress with beautiful typography, subtle transitions, interesting use of navigation. Expend theme specially design for electronics, mobile, mega store and multipurpose store category. Expend theme designed it to make your site prettier and your life easier. Expend theme is compatible with a bundle of the premium plugin: WPBakery Page Builder and with this plugin easy to customize with drag and drop page builder that will help you to create any type of layouts with fast and easy.
---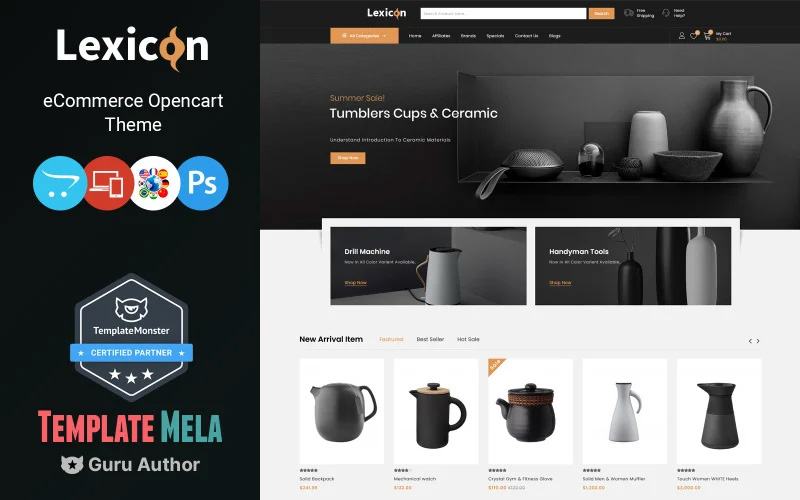 Lexicon is professional minimalist Responsive Opencart Theme built to create modern powerful e-Commerce website. Lexicon Opencart Theme is SEO optimized to be friendly with most popular search engines. Lexicon Opencart Theme configuration gives the control with flexible settings, fast loading, fast support and much more. Lexicon Opencart Theme Including One Click (Quick Start) package to get a replication of our demo theme installed on your web site with same demo content, graphics, theme settings & layouts etc.
---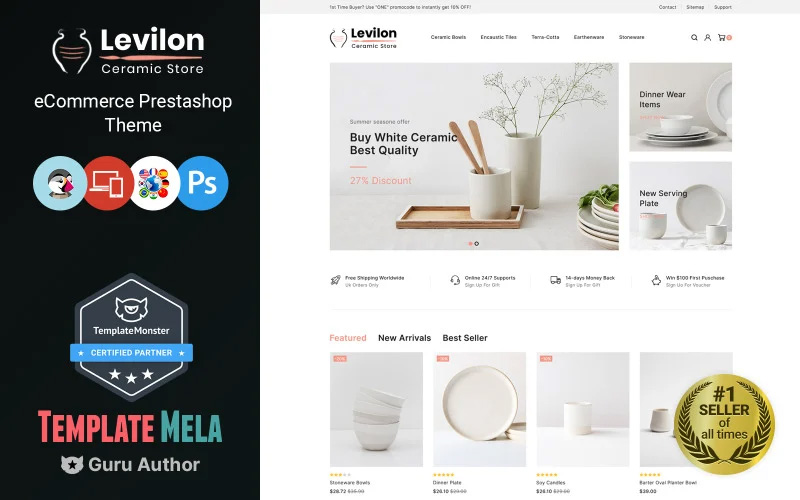 Levilon Prestashop Theme is fully customizable features and suitable for e-Commerce web sites of multi purpose store layouts. Levilon Prestashop Theme package including one-click (QuickStart) to get a replication of our theme demo store on your store web site with including same content, graphics, theme settings & layouts etc. Levilon Prestashop Theme has a number of functioning features of a modern template for multi purpose in building a web site. Levilon Theme supporting the latest version of Prestashop.
---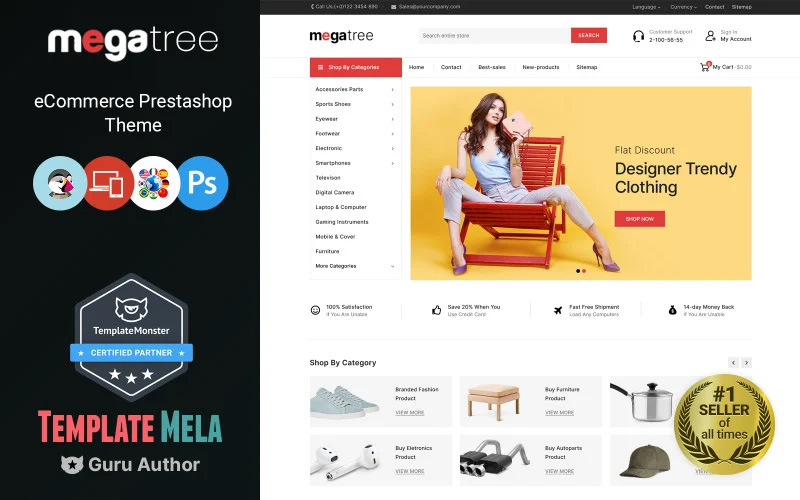 Megatree Prestashop Responsive Theme is fully customizable features and suitable for e-commerce websites of multipurpose store. Megatree theme package including one click (Quick Start) to get a replication of our theme demo site on your store website with including same content, graphics, theme settings & layouts. Megatree theme has a number of functioning features of a modern template for multipurpose in building a website and supporting the latest version of Prestashop.
---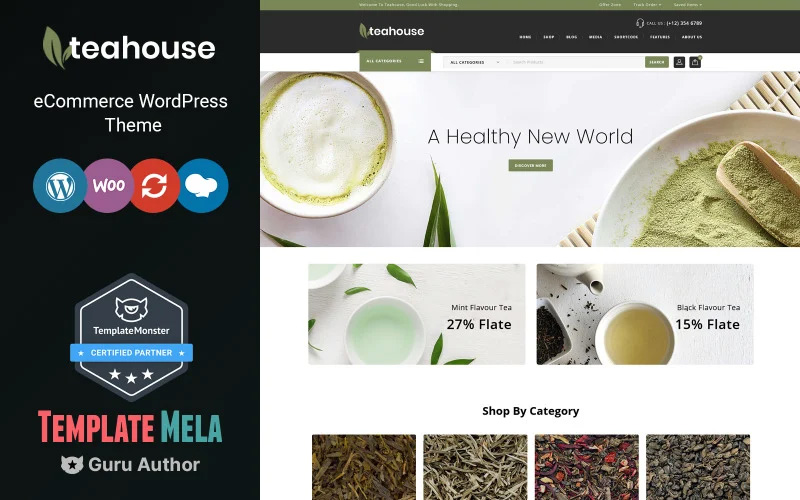 Teahouse theme is a creative and elegant theme that mainly focused on e-commerce and it will perfectly suits for any type of online business with its clean and multi-functional layouts. It is created with clean and customize, which makes the theme fully responsive and functional. This theme is compatible with a bundle of the premium plugin: WPBakery Page Builder. This plugin is easy to use drag and drop page builder that will help you to create any layout you can imagine fast and easy. Teahouse theme has been purposely built for the organic food, organic shop and organic farm industry and designed to be clean, user-friendly, secure and focused on performances.
---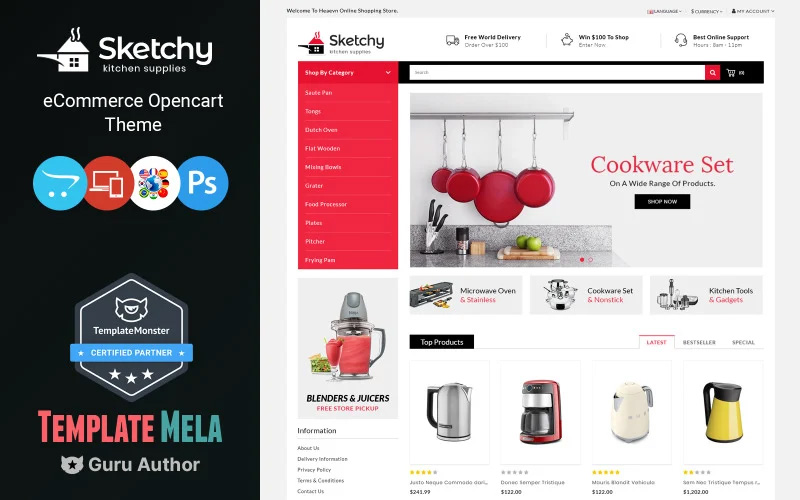 Sketchy is an advanced OpenCart 3 theme with fully customizable features and suitable for e-commerce websites of any purpose. Included one-click to get a replication of our theme demo site on your website with sample data, theme settings & layouts. The theme is flexible and can adapt multiple shopping cart websites. Sketchy theme is suitable for selling all things such as : kitchen accessories , grocery , food, electronics, computer, digital, fashion, mega store, lighting, autoparts, vegetables, lingerie, furniture, cosmetic and flowers.
---
Would you like to join our family of authors? Register your account, read how to sell templates with us, and upload your works today! Our team is always happy to provide you with everything you need for good sales: stable traffic, promotions for your templates, and professional support. Develop your skills, share your experience and earn more with TemplateMonster Marketplace!