Sell on Pinterest. Today, Pinterest is a popular platform for inspiration and communication. Every month the service is used at least by 300 million people. Their audience is loyal and highly engaged. For many brands, this resource is a proven promo tool, because it's perfect for presenting products, services, and content in any business area. People use Pinterest for inspiration and to find ideas. There you can find recipes, interior ideas, illustrations, useful information, infographics, and so on. This means that this service is great for the promotion of various projects: from photo services to online stores.
Content outline:
Intro
Key Advantages of Product Promotion on Pinterest
Ways to Optimize Your Shop & Products for Pinterest

Upload Your Product Properly
The Basics of Product Promotion on Pinterest
Using Corporate Accounts
Add Your Products to TemplateMonster's Pinterest Board

Conclusion
Intro
At a first glance, Pinterest and Instagram are very similar:
they share common audience;
the concept of both is a photo album;
here and there the emphasis is made on beauty and aesthetics;
both social networks reflect a similar range of interests, etc.
Indeed, there are tons of similarities. But the main difference between these two is that Pinterest allows you to save your favorite pins on different boards for later use.
Monetization is fairly easy when you need to build a sales campaign for various products, training materials, creative content, and much more. Pinners are not just looking for inspiration, they are deciding what to buy.
Key Advantages of Product Promotion on Pinterest
Using Pinterest as an advertising platform can help you develop your business more effectively.
Here are some advantages.
The client base growth. Pinterest audience is getting larger every day. And if you start promoting your account now, you can get a good conversion rate on your website.
Free advertising. You can use Pinterest to promote your product and attract your target audience – just post attractive content that users will pin with pleasure, and don't forget to add links leading to relevant store pages.
Additional traffic to your website. You can use Pinterest posts to attract users to your site. You can promote the products by duplicating content that you use on your main resource (in the catalogs of an online store, in an "Instagram blog", in advertising materials, and so on). Lots of Pinterest users are searching for certain services and products here.
Communication with customers. Pinterest is an efficient platform where you can communicate with your customers, explore their interests and needs.
Filling the media space. Pinterest allows you to create a business account that provides commercial users with additional functionalities like free analytics, ads, online transactions, and the ability to publish special offers.
Presentation of your products. The Pinterest account can be a catalog of your products or services that contains links to your main website.
Pinterest is a great tool where you can interact with customers interested in your business. In the long run, it allows you to capture your target audience.
Ok, we've outlined the key advantages of using Pinterest and now we're ready to optimize the products.
Ways to Optimize Your Shop & Products for Pinterest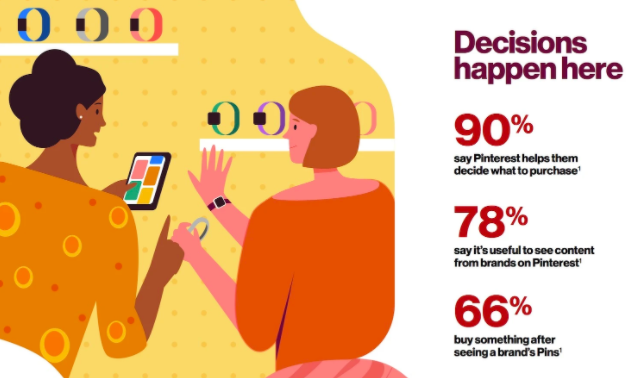 Pinterest users are the most active buyers on the Internet and you should take advantage of this. Make sure that your products are recognizable, popular, and can be easily purchased after minor optimization.
Upload Your Product Properly
Pinterest is a visual platform, it is very important to upload eye-catching visuals:
high-quality photography;
images with multiple dominant colors;
beautiful graphics;
bold colors and fonts;
showcase your brand;
include your logo.
Use a variety of descriptions, even for those images and pins that are slightly different. This will allow you to reach a wider audience. Don't forget that first of all you're advertising your profile on Pinterest.
Make sure that your content is readable. After all, your primary goal is a consumer, not the search engine.
On Pinterest, you can use different content formats: from regular pins to pin carousels with multiple images. The requirements listed below can be applied to both ads and regular pins.
You can also refer to the guide on how to upload digital products.
Images
File type: PNG or JPEG.
Maximum file size: 32 MB.
The recommended aspect ratio: 2:3 or 1000×1500 pixels. Pins with a bigger aspect ratio can be cropped when displaying in the feed.
The number of characters in title up to 100 characters. If there is no header, users will see a description of your pin instead.
Description up to 500 characters. The most important information should be given at the beginning of the description since the feed usually displays the first 50-60 characters.
More Pinterest product specs are available here.
The Basics of Product Promotion on Pinterest
Present your product at its best. Publish the most "delicious" and high-quality images of your product on Pinterest, do not forget to add the URL of your site under the photo. Users of this social network are potentially ready to make a purchase, they need some minor boost.
Tell your story. Your audience will probably be interested in learning the history of your brand or company. Visual content allows you to create your brand uniqueness and better convey emotions.
Place your product properly in the photo. Create pins and boards that won't force to buy but will still have your product in the photo.
Make it clear how to buy your product. Make sure that Pinterest users understand how to buy the product you've pinned.
Pin shareable images. Add content that evokes emotions, people like it.
Use captivating descriptions. This will help you to create an image of your brand and while explaining to people what exactly you're offering. Make Pinterest users want to buy your products.
Avoid spam. Spamming is an effective way to lose followers. You do not need a bad reputation, don't you?
Collect photos and pins of famous people who use your products. Knowing that influential people enjoy your product will inspire users to try it also.
Make announcements. Most users go to Pinterest to find the necessary information and justify their purchase decisions. Use the audience's interest when preparing new promotions, discounts, or new product launches. Upload photos and posters with your announcements to Pinterest.
Use hashtags. Add appropriate hashtags to each of your pins. This way products will be placed in the user's area of interest next to similar pins of other people and stores with similar items.
Using Corporate Accounts
As another way to optimize your stuff on Pinterest, you can search for your products in the pins of corporate accounts and repin them. If your products were not added to our corporate accounts, feel free to email us at marketing@templatemonster.me with the request to add your items.
Here's the list of TemplateMonster corporate accounts on Pinterest:
Add Your Products to TemplateMonster's Pinterest Board
Now you have an opportunity to advertise your items with us on Pinterest. It's a great option to share your ideas, novelties and tell more about your art to thousands of Marketplace followers. To become a part of our board, follow the steps below:
Use the following link https://pin.it/1L83jBn
Accept the invitation from TemplateMonster.
Create a section in a group board with your store name and promo materials.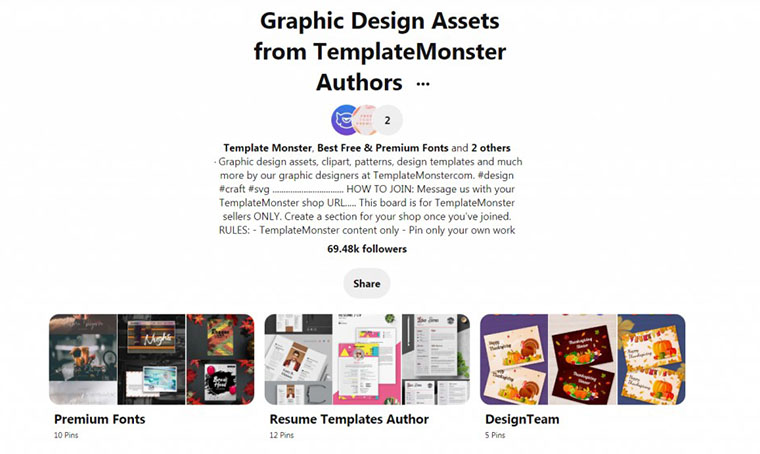 Pinterest Board Terms for TemplateMonster Authors:
Only TemplateMonster authors can join.
One author can create only one section.
The section may feature only those products that are available at TemplateMonster. You cannot include items from other platforms and marketplaces.
Pin only your own works.
And done! Now your templates are available for all the TemplateMonster's account subscribers, so you will easily sell on Pinterest. 
Conclusion: Sell on Pinterest
Pinterest is an online platform for placing images in thematic collections, which allows you to share them with other users, exchange ideas and find inspiration, get detailed information about various products, and increase sales.
The audience of Pinterest is huge. Moreover, a large part of this audience are financially sound people who shop at Pinterest, get some inspiration, or follow brands. Don't neglect Pinterest's exceptional selling power to increase your profits.
Sell on Pinterest!